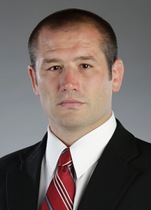 Head Coach
Daniel Elliott
Former two-time NCAA Division I National Qualifier and Runnin' Bulldog wrestler Daniel Elliott begins his fourth year as the Head Coach of the Gardner-Webb Wrestling program after taking over the reigns in April 2012 – and has GWU poised for a run to the top of the Southern Conference standings and beyond.
His hard work paid off with a share of the regular season trophy in the Southern Conference in 2015-2016, as Gardner-Webb finished with a 6-1 mark in the league and posted its first two wins over top-25 opponents – taking down No. 25 Appalachian State in late January and No. 24 Duke in February. Five GWU wrestlers appeared in the NCAA RPI top-33 rankings over the final month of the regular season, and six posted at least 19 total wins heading into the Southern Conference Tournament.
Elliott took over for former head coach Dick Wince who retired at the conclusion of the 2011-12 season. He previously served as the Associate Head Coach for the previous three seasons and has been on the GWU wrestling coaching staff since 2006.
He has tutored an NCAA qualifier in each of his previous three seasons as head coach and has pushed Gardner-Webb closer to the top of the Southern Conference standings each season. The Runnin' Bulldogs finished fourth at the annual Arby's SoCon Wrestling Tournament in 2015 – the program's highest finish since joining the league as an associate member until its most recent success.
For his efforts, Elliott was named Southern Conference Co-Coach of the Year for the 2014-2015 season. Redshirt sophomore Ryan Mosley worked his way to All-SoCon honors at 149 pounds in 2014-2015 and earned a berth in the NCAA Division I Wrestling Championships in St. Louis, Mo. The Stone Mountain, Ga., native went 30-11 individually on the season.
In 2013-2014 Elliott helped guide redshirt freshman Austin Trott to 29 wins and a berth in the NCAA Division I Wrestling Championships – the latest in a long line of successful debuts for Gardner-Webb wrestlers.
In 2012-13, Elliott's first year as a head coach, he helped guide freshman Hunter Gamble to become Gardner-Webb's first-ever Southern Conference Champion. With Gamble's Southern Conference Championship victory at 174 pounds, he received an automatic bid to the NCAA Division I National Championships where he went on to win his first round match to join Eddie McCray and Joshua Pnieswki as the only three Runnin' Bulldog grapplers to earn a win in the Championship bracket at the NCAA Championships.
Since moving over to the bench as a coach in 2006, Elliott has seen at least one GWU wrestler make it to the NCAA Championships in six of the last seven years, including watching a record tying four student-athletes qualify for the nationals in 2010-11. Heavyweight Dustin Porter reached the NCAA Championships four straight years from 2007-10, while fellow GWU grappler Rob Tate reached the Championships in 2006-07, earning the Runnin' Bulldogs lone victory at the national event that season.
Dustin Porter finished his career with a total of 120 wins overall, a program high, and was a four-time NCAA qualifier and a four-time East Regional Champion, while Travis Porter, the younger brother of Dustin, recorded 76 wins over his career at GWU and was a 2011 East Regional Champion and NCAA qualifier. Twins Alex and Ryan Medved registered 97 and 59 career wins, respectively, during their time at Gardner-Webb and were both 2011 East Regional Champions and NCAA qualifiers as well, while in his final year on the mat at Gardner-Webb in 2011, Jonathan Velazquez was named the Most Outstanding Wrestler at the 2011 NCAA East Regional Championships, was a 2011 East Regional Champion at 184 pounds and also qualified for the 2011 NCAA National Championships.
Off the mat, Elliott has worked hard in raising money for the GWU Wrestling program and its new practice and locker room facility. His fundraising efforts have allowed the Runnin' Bulldog wrestling program to move into a new building prior to the start of the 2010-11 season, which when fully renovated will be one of the nicest wrestling only facilities in all of NCAA Division I with offices, locker room, team room, bathrooms and a large practice area.
Elliott, who held the school record for career wins with 108 when he finished his career, also holds GWU's single-season wins record in addition to the most consecutive wins by a Runnin' Bulldog wrestler in the program's history. He also led the team in each of his last three seasons in takedowns.
Elliott graduated in May 2006 with a double major in History and Communications. Elliott then went on to earn his Master's Degree in Sports Science & Pedagogy from Gardner-Webb in August 2008.
Daniel is married to Paisley Elliott and the couple lives in Gaffney, S.C. with their son, Owen, and dog, Monster.